Written by Phil Tsao, former Westie.
About Phil
I have been 3D printing for years and was an early adopter into the industry with Printrbot. Through my career, I've gained a wide array of hands-on prototyping and manufacturing experience ranging from 3D printing to machining, and now own two filament printers as well as a Form 2 and Form 3. I also own a laser cutter, plasma cutter and vacuum former.
In addition to being a Design Engineer at MistyWest, I run the rapid prototyping company Ember Prototypes, focusing on helping startups and other engineers with prototyping.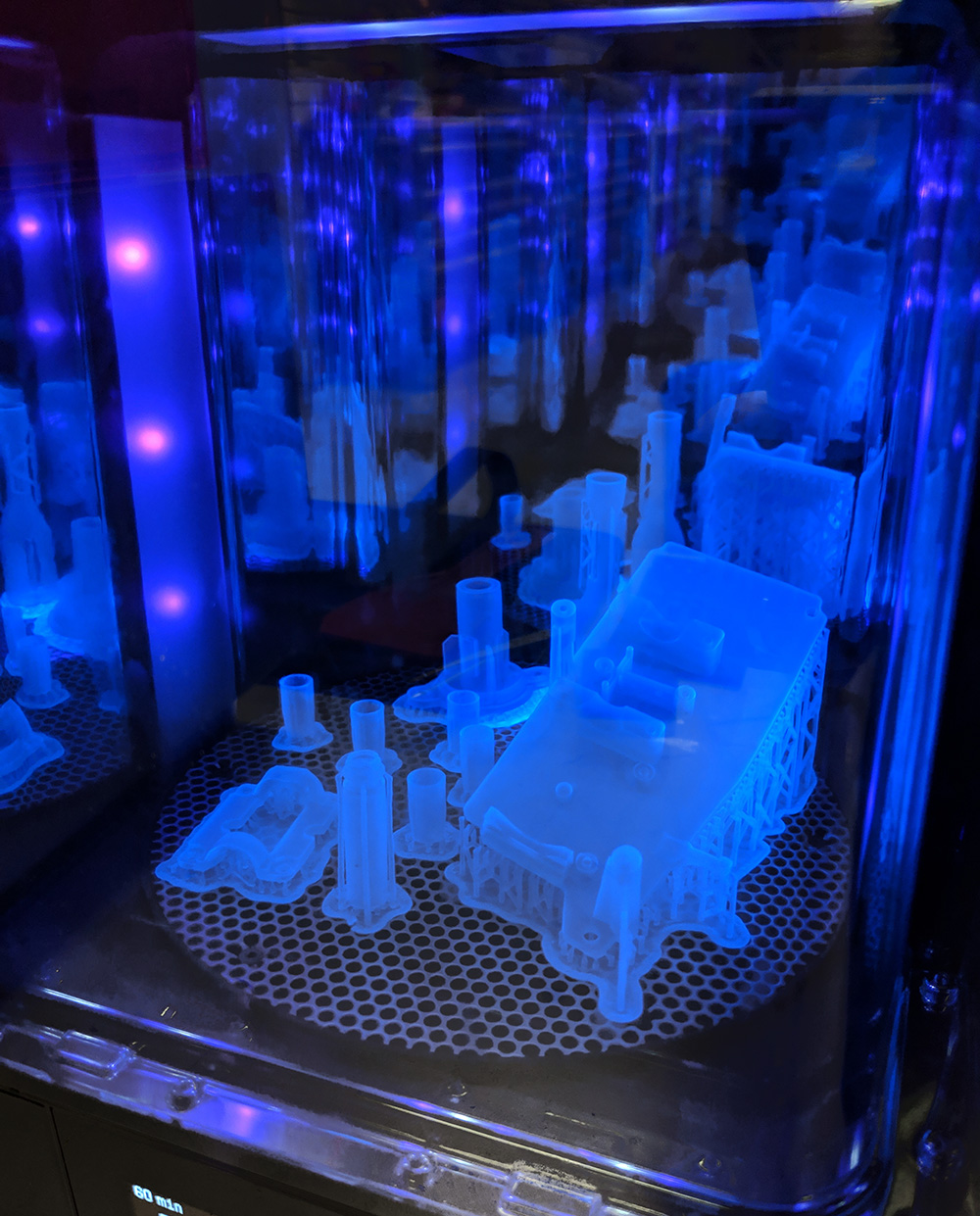 Our Guide to 3D Printing blog series will compare different 3D printing technologies, with a particular focus on affordable and accessible technologies that allow rapid iteration in product development. We will also cover some of the more exotic technologies, emerging tech, and innovative companies in the 3D printing and additive manufacturing space in future posts.
Today, we are starting with the introductory guide to 3D printing!
Brief History of 3D Printing
Although 3D printing feels like a recent innovation–thanks to the growing availability of low cost hobby printers and high profile 3D printing accomplishments in medical science–like many technologies, it has been around for decades.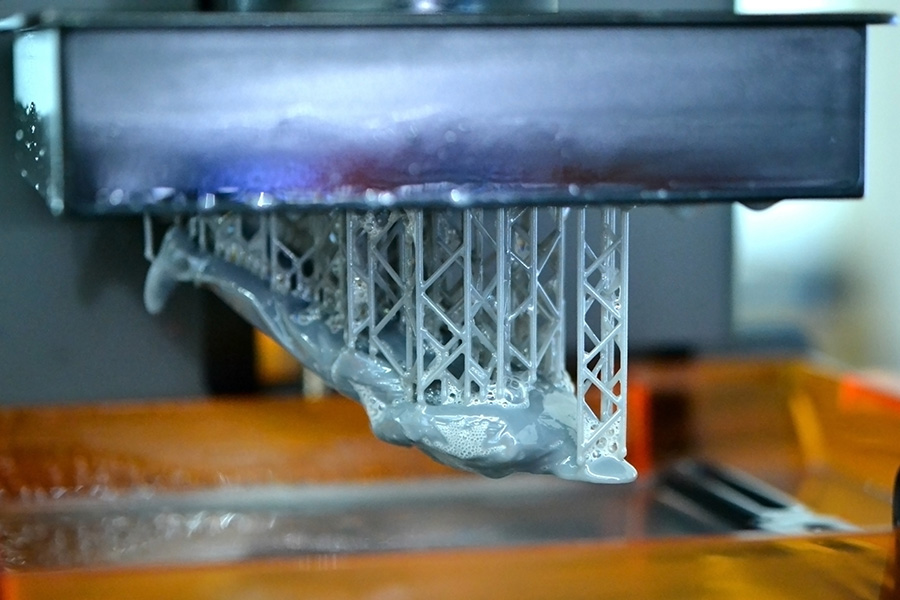 Stereolithography (SLA) and Selective Laser Sintering (SLS) were invented back in the 1980s, and the most ubiquitous printing technology, Filament Deposition Modeling (FDM) was invented in the 1990s by 3D printing giant Stratasys [1, 2].
In 2009, the first open source 3D printers hit the market, including the well-known MakerBot, who introduced 3D printing to the masses and created all the hype around the technology.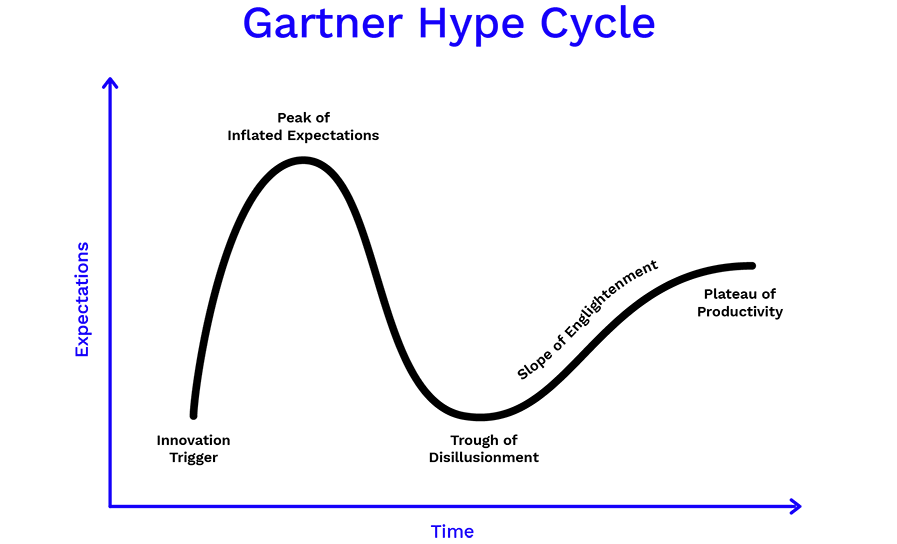 After the arrival of MakerBot, 3D printing was at the peak of inflated expectations (see Figure 1: Gartner Hype Cycle), and the world expected to have 3D printers in consumers' homes fixing everything from cars to children's toys. But, thanks to the general population lacking 3D modelling knowledge, this futuristic dream faded away quickly, and within a couple of years 3D printing fell into the Trough of Disillusionment.
3D printer manufacturers shifted targets to prototyping, engineering and manufacturing markets, allowing engineers the possibility of design and iteration within days. With the expiration of the main FDM patent in 2009, and other key patents onwards, the emergence of more affordable and reliable 3D printing entities began–including well-known Kickstarter Unicorn Formlabs, who raised $3 million dollars in 3 weeks for their Form 1 SLA printer.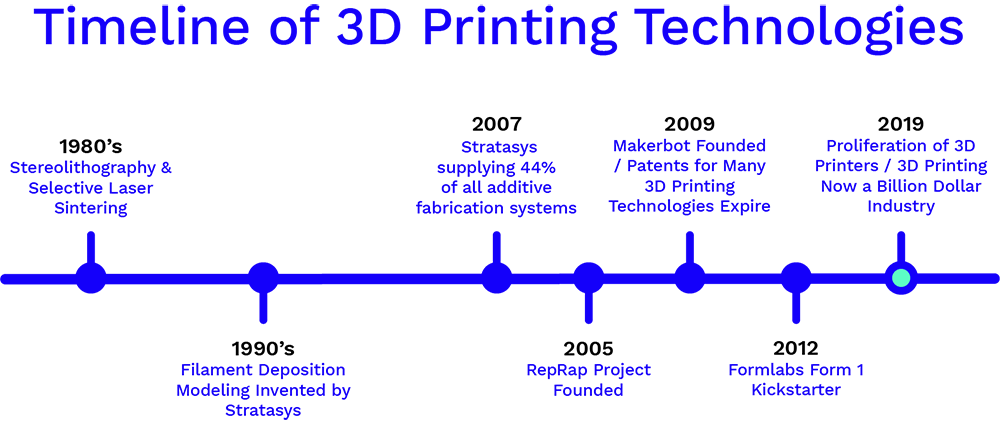 Fast forward to 2019, and there is no shortage of quality budget-and-user-friendly 3D printers available. 3D printing started moving up the Slope of Enlightenment, making way for the Plateau of Productivity.
Looking towards future advances in the technology, many of the present day innovations are targeted towards metal 3D printing, improved speed & efficiency, additive manufacturing, and material properties.
3D Printing Technologies: Exotics & Metals
There's a considerable array of 3D printing technologies on the market; however, what can lead to confusion is some of these offerings are trademarked while the underlying tech is similar.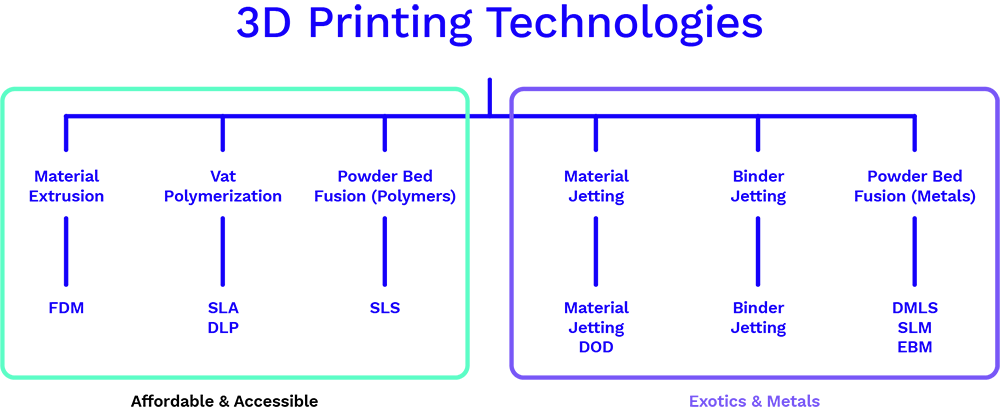 Figure 3 is a visual breakdown acquired from Hubs that we've split into 2 categories: "Affordable & Accessible" and "Exotics & Metals". Affordable & Accessible technologies are becoming so cheap and functional that they're disrupting the traditional prototyping and development life cycle (and we will cover this in our next blog post).
Exotics & Metals are for much more specific use cases, such as aerospace design where a single metal 3D print can replace what traditionally required several intricate metal pieces, helping keep manufacturing costs down.
To provide a high level comparison, we've designed a custom threaded test part with knurls used for a laser engraving fixture, and requested online quotes. Pricing for this part is entered into Figure 4, along with some basic differences between the technologies.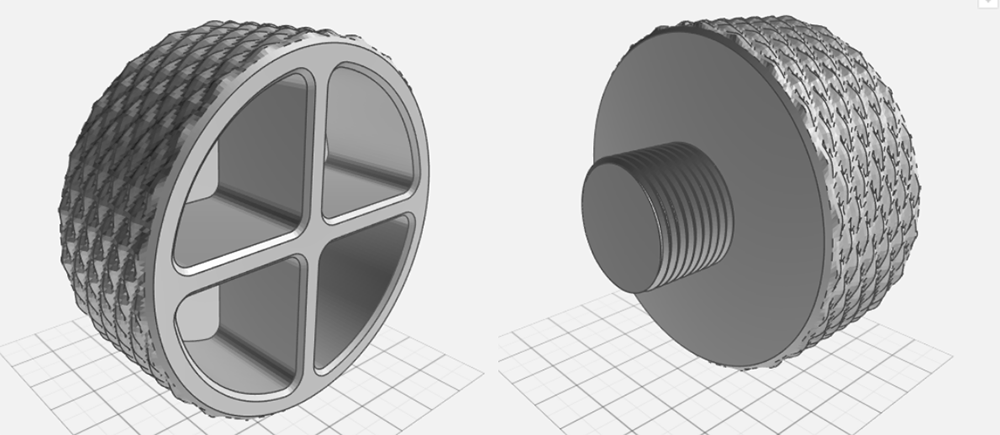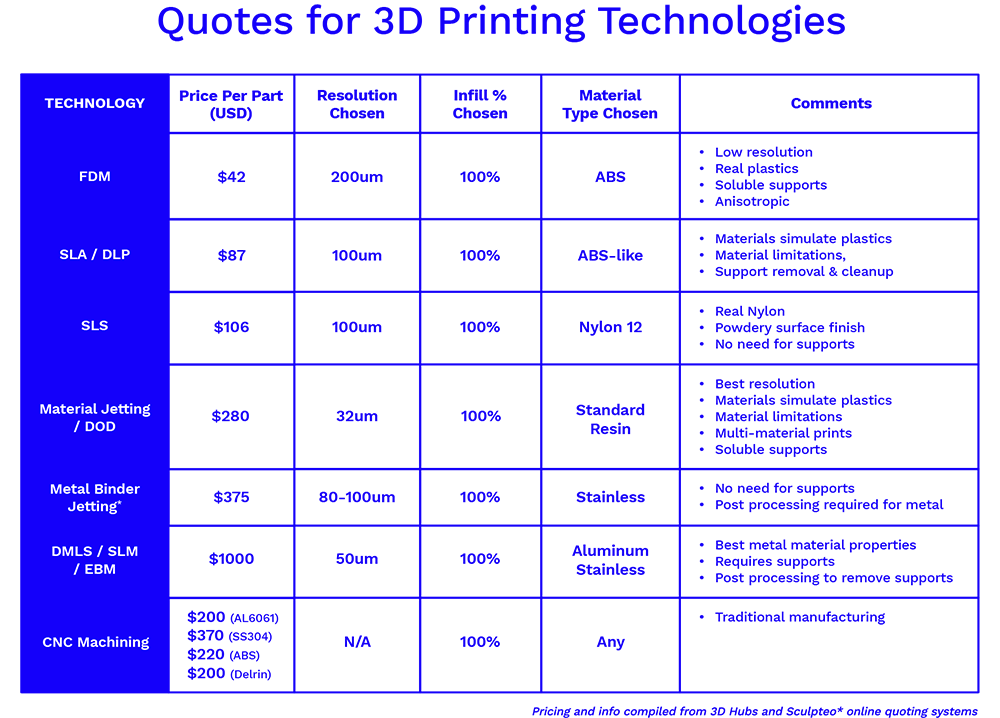 Conclusion
As a Design Engineer, perhaps the most useful takeaway here is the table comparison in Figure 4, providing a rather eye-opening indication of where the cost of 3D printing currently lies; Affordable & Accessible technologies are now much cheaper than traditional prototyping and manufacturing techniques.
However, it also shows that we're still not able to outperform traditional techniques for metal parts. I am fairly confident that we will reach that point eventually, but stay tuned for our next post, where we will dive a bit deeper into the Affordable & Accessible technologies.